Bank Holiday Monday 30th May 2011 may be remembered as the day England skittled out Sri Lanka for 82 to win the test match, but the clatter of wickets that morning at Preston Nomads as the under-15 girls took on tough opponents Hastings was just as remarkable!

PNCC were put in to bat and got off to a slow start in overcast conditions. But the lower order batters raised the total to a respectable 96 all out, Sarah top scoring with 18 and Hannah and Victoria looking most accomplished though neither had played in a hard ball match before. Hastings' county-level opening bat Abbie got the visitors off to a flying start until she had to retire on 26, after which their middle order got bogged down with some economical bowling from Abi, Beth, Elsa and PNCC captain Maia. Seven runs were needed for victory when Holly came on to bowl the final over, but instead four wickets fell as Holly bowled beautifully to take one leg before wicket and two bowled, with another Hastings batter run out for good measure. Holly's figures were 3 for 11 in 3 overs and the PNCC girls had won by 4 runs!

As in the previous match the PNCC team's camaraderie and support for each other played a big part in their success. With a little more match practice in areas such as backing up in the field, running between the wickets and calling, the girls should become a real force to be reckoned with.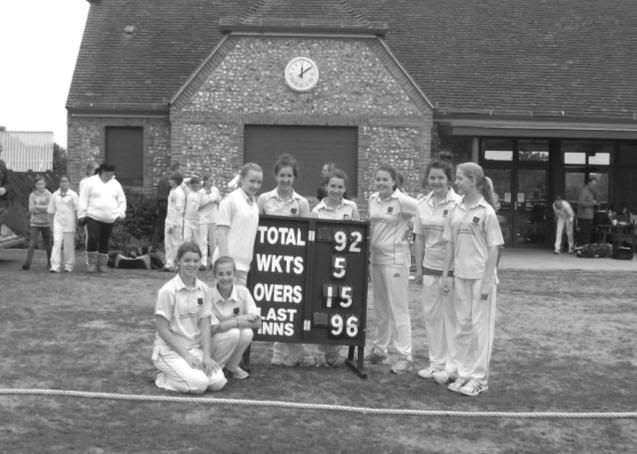 U15 winning girls team from left to right: Elsa, Maia, Sarah, Holly, Victoria, Hannah, Beth and Abi